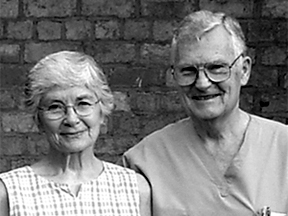 Dr. Robert Boze, a leading layman in the Berne, Indiana, Bethel Brethren Church and former GBIM missionary to CAR, died in a hunting accident Monday afternoon near his home.
After nearly 35 years as a family practitioner, Dr. Boze and wife Phoebe felt called of God to the CAR to fill an urgent need for a doctor at the Grace Brethren hospital at Yaloke in 2001. The Bozes served with distinction for a year and were loved by Africans and missionaries alike.
According to the Grace Brethren International Missions website, Dr. Boze lived a life of service to others. In World War II he served in the Air Force; later he served on the board of Grace College. He was a trusted family practitioner for over 40 years, a leader in his church, a devoted husband, father and grandfather.
Dr. Boze is survived by his wife and two sons, Jeff and Mike, both graduates of Grace College.