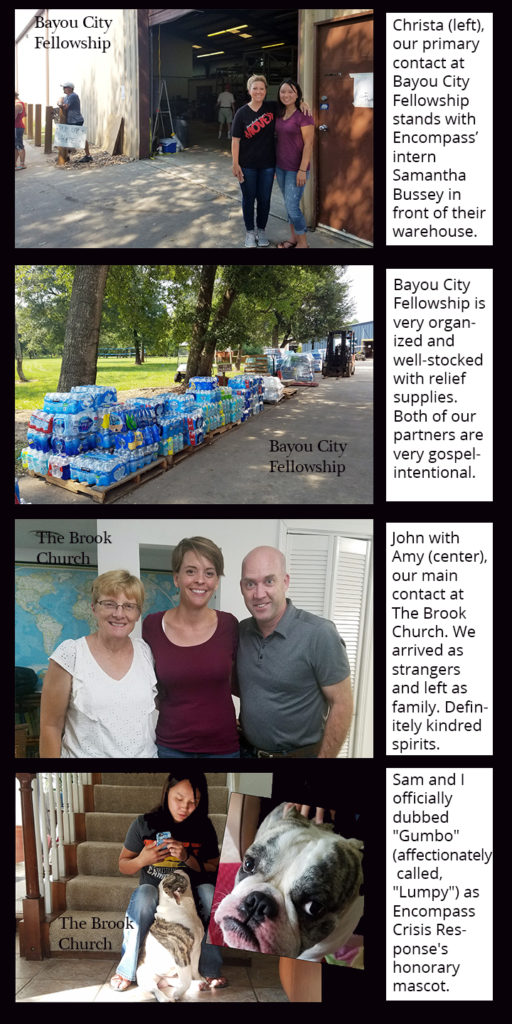 Barb Wooler, director of Crisis Response for Encompass World Partners, has been on the ground in Houston, Tex., this week, evaluating where it is best for teams from Grace Brethren churches to serve. Below is her report, posted to encompasscrisisresponse.org.
Even before the rains of Harvey have receded from the streets of Houston, Hurricane Irma is churning through the Caribbean and due to land in Florida by Sunday, September 10.
While we are in full-prep mode for Irma, Harvey still has our full attention.
HARVEY RESPONSE (See photos below.)
We have a strong coalition of churches that are committing to serve the same vision. We are serving alongside two local church partners on the ground in Houston.
Bayou City Fellowship (Cypress, Tex.)
The Akron Grace Church has a strong relationship with the outreach pastor at Bayou City Fellowship. Scott Farwell, representing the Akron churches and Barb Wooler, representing the FGBC Harvey Coalition, have both visited this church, which has been doing an incredible job gutting hundreds of homes in their community.
The Brook Church (Tomball, Tex.)
Pastor Dan Allen of the Ashland Church pointed us in the direction of an excellent partner, his cousin who is on staff at The Brook Church. They have been reaching out and serving in their community, gutting out homes and blessing people in great need.
HOWEVER, this local Houston "muscle" is exhausted and in need of reinforcements. That's where we come in. 
Here's some ways we can help:
Pray – that through this tragic loss God will draw many to Himself
Go – consider joining one of our teams to Houston. We need skilled workers (carpenters, DIY kinds of people, people willing to be trained in trauma mitigation) as well as general muscle
Give – Gifts to Encompass will help with financing teams where needed, as well as purchasing supplies. $25,000 is an initial estimate of our need, but the more we collect the more we can distribute in goods and services in Jesus' name. Give here.
As we pray for those in the path of Hurricane Irma, please be watching for updates concerning a response in the very near future.