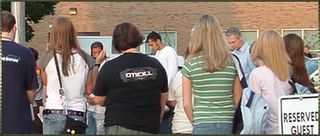 Today is "See You at the Pole" day at schools across America and around the world.
More than two million teens in all 50 states and numerous foreign countries are expected to participate in this year's event, the theme of which is "PRAY: call 2 me" — based on the scripture Jeremiah 33:3.
The national organization, which provides promotional material and guidance for groups planning a SYATP event, also provides information on students' rights to gather on school grounds for the sole purpose of praying for their nation, their campuses, and their families.
The group encourages SYATP participants to be prepared for possible opposition from school officials, and to know their rights, plan their response, and — above all — remember they are representing Christ.
Since its inception in 1990, SYATP has occurred every third Wednesday in September. But beginning next year, the event will be moved to every fourth Wednesday of that month to allow students more time to organize their observance after their school year begins.
CE National is encouraging contributions of reports and digital photos from Grace Brethren teens participating in this year's event. As postings arrive, they may be seen on the "BNYC Talks" forum at www.cenational.org.